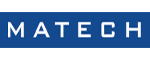 Materials and Technologies, Corp.
Materials and Technologies, Corp. has been developing processes and systems for the microfabrication, microelectronics, optoelectronics, optics, and MEMS applications.
MATECH has been very successful with its WaveEtchTM Single Sided Wet Processing (SSUWP) systems, as well as its continued effort in providing its customers with innovative materials and process solutions.
WaveEtchTM system provides high performance single sided cleaning, texturing, thnning and wet processing with patented technologies such as LinearScanTM, Dynamic ConfinementTM single-sided wet processing & Non-contact CATTM Chuck technologies.